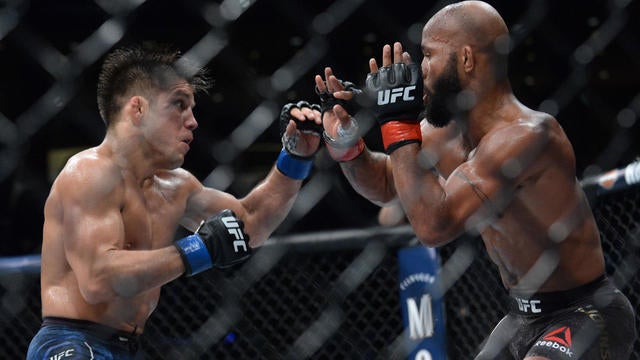 UFC 227 Highlights: Demetrious Johnson vs Henry Cejudo
In the dangerous and unpredictable world of elite mixed martial arts, Demetrious Johnson defending his UFC flyweight title used to be one of the new rock-solid constants.
Johnson, who set a UFC record with 11 title defenses and earned almost universal praise as the sport's pound-for-pound king, saw his legendary reign come to an end in surprise fashion on Saturday at UFC 227 in Los Angeles when he was upset via split decision by Henry Cejudo. The fact that the decision was largely disputed doesn't take away from how surprising it felt, especially considering Johnson had finished Cejudo inside of one round when they met in 2016. Yet the loss created a changing of the guard at the top of the P4P rankings at a very unique time for the top 10.
Can't get enough UFC? Subscribe to my podcast In This Corner with Brian Campbell where we break down everything you need to know in the Octagon.
The usual suspects of Jon Jones and Conor McGregor are both ineligible after layoffs of more than one year (although McGregor just agreed to a return from a two-year break in October). That means Daniel Cormier couldn't have chosen a better time to alter history when he knocked out heavyweight champion Stipe Miocic last month to join McGregor as the only fighters to hold multiple UFC titles simultaneously.
Not only was the means by which Cormier's recorded the victory surprising after he knocked Miocic out in the opening round, but the fact that, at 39, he looked more powerful and technical as a heavyweight than he has in recent years as the 205-pound champion was beyond impressive.
But Cormier's ascension to the P4P throne wasn't without a late run from TJ Dillashaw, who followed Johnson's upset loss on Saturday by recording a second knockout of the previously P4P-ranked Cody Garbrandt to defend his bantamweight title in the main event. Dillashaw is on his way to becoming the most accomplished 135-pound fighter in UFC history, and if you consider how disputed his two decision defeats were to Raphael Assuncao and Dominick Cruz, it's easy to imagine Dillashaw having already earned this type of critical respect had he not suffered the questionable losses.
At 32, Dillashaw is at the peak of his powers and continues to stand out for his combination of speed and power, along with his uniquely shifty style.
Men's pound-for-pound rankings
UFC Power Rankings
Player
Weightclass
Record
Trend
1. Daniel Cormier (c)
Light heavyweight/heavyweight
21-1 (1 NC)

Should DC close his career with one more 205-pound title defense, a monster pay-per-view against Brock Lesnar and a third fight with Jones, we could be looking at one of the four or five greatest careers in MMA history.

2. TJ Dillashaw (c)
Bantamweight
16-3
A rematch against Cruz should be top priority for UFC, not just because of how disputed Cruz's title win was in 2015, but because he remains the last hurdle in Dillashaw's quest to become the best bantamweight in history.
3. Demetrious Johnson
Flyweight
27-3-1
As Dillashaw can previously attest to, not every champion gets an instant rematch after dropping their title by close…
<!-comments-button-->