It's Wednesday, which means it's time to discuss what you want to talk about. It's mailbag day.
Three times a week, this space will be filled with news, analysis and newsletter-specific perspective on the Cowboys from me, plus links to coverage from our entire staff. I want this space to be interactive — I want to hear from you, to know what you're hankering to know and to answer your questions. I want to know what you think and what you'd like to read more about.
You can reach me by email at mark.cooper@tulsaworld.com or on Twitter @mark_cooperjr. And if you're looking to sign up for the newsletter, you can do so here.
Thank you for reading — and I look forward to talking with you again soon.
Every Wednesday, this space will be filled with whatever topics you want to talk about. Here were some of the questions I received via Twitter or email this week: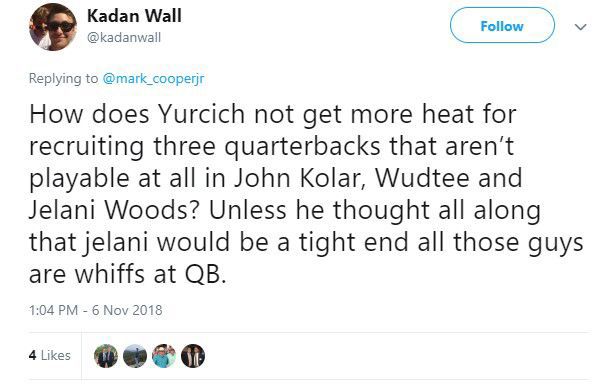 This has certainly been an issue for Oklahoma State. While Taylor Cornelius was a surprise and has filled the gap at quarterback at OSU for a year, his rise from former walk-on to starting quarterback coincides with a dry spell in quarterback recruiting.
John Kolar was one of two four-stars in OSU's 2015 class (Darrion Daniels the other). But it became apparent early he wasn't going to be Mason Rudolph's replacement.
Keondre Wudtee was a late addition in 2016 after Nick Starkel flipped to Texas A&M, but at the time there was some thought OSU actually upgraded from Starkel to Wudtee. Right now, Wudtee is playing on scout team and hasn't traveled to recent road games.
Jelani Woods was recruited as a quarterback, so there was not a plan to play him at tight end out of high school. But it became apparent in his first year on campus that it would be his path to the field.
Why isn't there more heat on this topic? I think a lot of it has to do with Spencer Sanders and the thought that he'll make up for the lost years recruiting the position. But that does put a lot of pressure on Sanders to work out. If he doesn't, Oklahoma State will have gone a four-year recruiting cycle without signing a quarterback who started a game.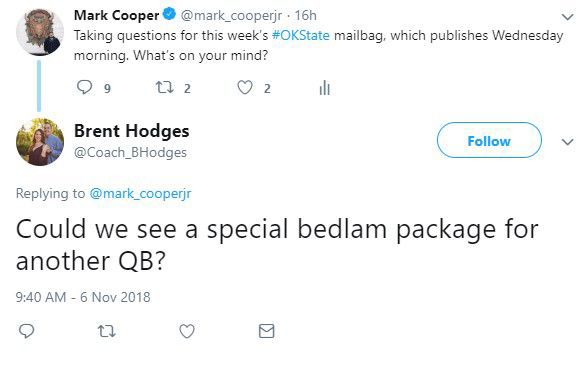 Got a couple questions about this idea this week. At this point, I would be surprised. I don't…

<!-comments-button-->